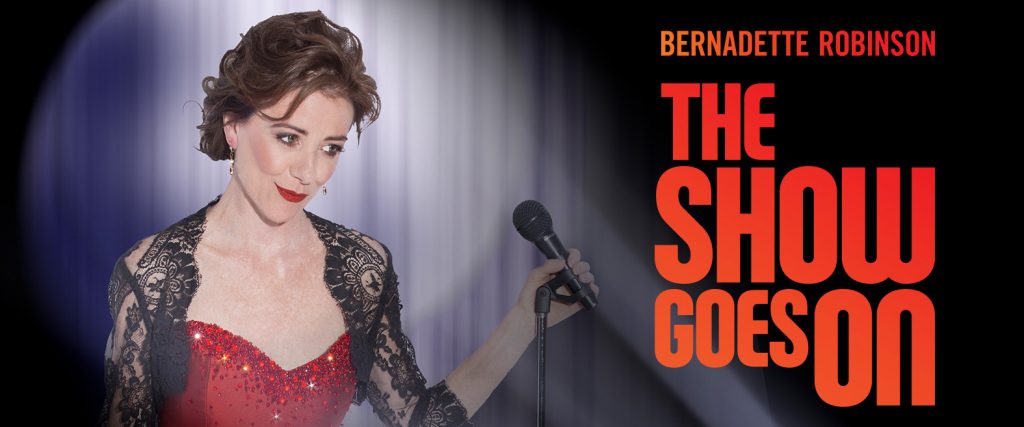 Arts Centre Melbourne, Fairfax Studio, Limited Season
15 – 25 February 2018
In a triumphant new production, The Show Goes On, Bernadette Robinson celebrates some of the world's most publicly adored singers through their own words and legendary songs.
From Judy Garland to Edith Piaf, Shirley Bassey to Barbra Streisand, Patsy Cline to Maria Callas and more, Bernadette captures their vulnerabilities, resilience, humour, doubts and fears through the power of their music.
These remarkable women devoted themselves to their art and their audiences; they loved, lost and triumphed in public and in private; they hungered for fame, and, having found it were sometimes broken by it. Through it all they expressed themselves on their own terms.
From operatic arias and power ballads to Broadway favourites, Diamonds are Forever to Don't Rain on my Parade, this incredible performer channels each of these iconic singers in superb style. Their fascinating lives are woven into interludes between songs, providing insight into the women behind the voices, with Bernadette accompanied by three highly accomplished musicians.
Audiences and critics alike have embraced Bernadette's unique acting and singing talents in her breakthrough runaway hit show Songs for Nobodies. The Show Goes On comes to Melbourne after a sell-out season at Sydney Opera House, and will delight her many fans and astound those who see her for the first time.
Venue: Arts Centre Melbourne, Fairfax Studio
Dates: Thu 15 – Sun 25 February
Times: Tue – Thu 7pm; Fri & Sat at 8pm; Sun 18 February at 6pm; Sun 25 February at 5pm
Matinees: Sat 17 & 24 February 2pm; Wed 21 February 2pm; Sun 18 February 2pm
Tickets: $79.00-$119.00
Bookings: www.artscentremelbourne.com.au or www.ticketmaster.com.au
Created by:                     Bernadette Robinson and Richard Carroll
Director:                         Richard Carroll
Producer:                        Harley Medcalf
Associate Producer:    Bernadette Robinson
 "The Show Goes On is a beautifully crafted and executed performance and will delight."
Broadway World
"Bernadette Robinson's performance is theatrical alchemy." Herald Sun 
The only official ticket outlets for this event are the Arts Centre Melbourne and Ticketmaster. Don't pay extra.